Rómeó és Júlia musical - Baja
Date: 2013.08.29-31
Venue: Bajai Szabadtéri Színpad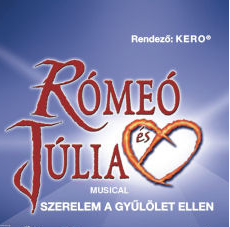 Romeo and Juliet
Szentháromság Square, Baja
Thursday-Friday-Saturday 29-30-31 August 2013
The eternal love story will be staged on the main square, so we can welcome another gigantic open-air performance. The musical has had several hundred performances over 9 years in Hungary, and has been applauded by hundreds of thousands of people. One of the most successful shows of the Budapest Operetta and Musical Theatre will arrive to Baja, so don't miss it! Romeo and Juliet, the musical, is still played to full hoses in the "Broadway of Pest" and on various stages around the country, and in 2013 It will be performed in the town of Baja by the stars of the theatre in August 2013.
After the vast success of the Parisian premiere the Hungarian version directed by KERO premiered in the Budapest Operetta and Musical Theatre in January 2004. The show was an instant success. The songs became radio hits, the CD became a platinum record in 2006, and the show was filmed at the Szeged Open.air Festival with monumental stage sets, glamorous costumes, 200 dancers and extras and the stars of the Budapest Operetta and Musical Theatre, and it's available on DVD as well.
Evryone is familiar with the plot based on Shakespeare's play. Gérard Presgurvic, the composer and writer of the musical said: 'Romeo is the most romantic and most tragic play in world literature. It would be hard to find a better subject for a good musical. It has everything: hate, love, misunderstanding, death, wedding, freedom. Besides all this I have attempted to use Romeo and Juliet to discover many new and timely feelings in myself."
Gerard Presgurvic's Romeo and Juliet was premiered by Glem Gerard Louvin in
Palais des Congres of Paris on the 19th of January, 2001. The show set on stage by the Budapest Operetta and Musical Theatre on 23 January 2004 is the Hungarian version approved by the author, and authorised by the original copy-right holder Netanya-Servicios de Consultoria LDA. Right holder in the territory of Hungary: Pentaton Concert and Artist Management - György Lőrinczy.


A bajai előadásra Budapestről még busz is indul a Moneo Tours szervezésében! Részletek a buszos útról ide kattintva!

Ticket /Sector prices
Szektorárak:
2900Ft - Abigél szektor, Mágnás Miska szektor
3900Ft - A Csárdáskirálynő szektor, Marica grófnő szektor, Abigél szektor, Miss Saigon szektor, Lili bárónő szektor, Mágnás Miska szektor
4800Ft - Rebecca szektor, A Csárdáskirálynő szektor, Marica grófnő szektor, Miss Saigon szektor, Szentivánéji álom szektor, Lili bárónő szektor, Viktória szektor
5700Ft - Rebecca szektor, A Csárdáskirálynő szektor, Marica grófnő szektor, Szentivánéji álom szektor, Menyasszonytánc szektor, Cigányszerelem szektor, Viktória szektor
8900Ft - Rebecca szektor, Szentivánéji álom szektor, Menyasszonytánc szektor, Cigányszerelem szektor, Viktória szektor: