Jézus Krisztus Szupersztár rockopera
Date:
Venue: Madách Színház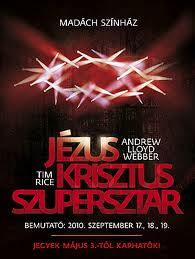 Andrew Lloyd Webber wrote in the femost Jesus Christ Superstar musical. The musical was so popular that the movie version came out.

Many years past since it is happened but this musical still actual and still popular.
In 2012 it was return to the Broadway in a brand new version. The Madach Theatre in Budapest also made a new version with special visual technology.

Tickets for the Jesus Christ Superstar here!